Crusaders Baptist Church (September 1980-Present)
*Rev. Leroy Harris 1980-1984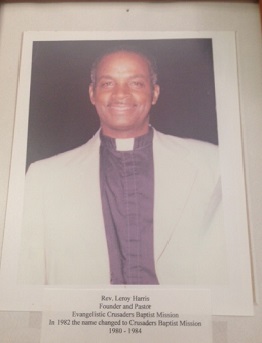 I
n September 1980, Evangelistic Crusaders Baptist Mission (ECBM)--now called Crusaders Baptist Church--was founded by Rev. Leroy Harris. The church was located at 4202 Edson Place, N.E. Washington, D.C.

On September 21, the first Sunday service was held. The sermon was delivered by Rev. Richard Christian of First Baptist Church of Highbridge located in Laurel, MD. The first prayer service was held on October 3, and the first members joined on the same date. The first elected officers were:

• Leroy Harris, Pastor;
• Sister Wilda Davis, Secretary;
• Sister Iris Owens, Treasurer;
• Sister Irene Noland, Financial Secretary; and
• Sisters Lillie Harris, Sadie Eatman and Irene Noland, Trustees.

On October 5, the first Holy Communion was served and the first Sunday School was held. It was established that Holy Communion would be held the first Sunday of each month. ?On October 12, the first Usher Board was formed. The Usher Board was chaired by Sister Lillie Harris with six active members.

On Sunday, February 22, 1981, Sister Sadie Eatman was named "Mother" of ECBM. The first hymnal books were donated to ECBM by Sister Alexander of Congregational Methodist Church, located in Seat Pleasant, MD.

On September 18, ECBM celebrated its first anniversary. The week-long celebration ended on September 25.

In February 1982, Rev. Harris started a building fund drive. Each member contributed $10.00 to kick-off the rally.

On April 23, The Articles of Incorporation was filed with the Recorder of Deeds in Washington, DC to legally establish ECBM as a corporation. At that time, the name of the church was changed to Crusaders Baptist Mission (CBM).

On June 6, the CBM held its first Men's Day service. The first Women's Day service was held on July 11.

On Sunday, February 12, 1984, Rev. Harris was called to his resting place. His final sermon was from Philippians 4:13--"I can do all things through Christ which strengthens me." After the death of Rev. Harris, there was a pause in the ministry. There were two ministers who assisted with the ministry from 1984-1988; during this period the membership declined.
*Deceased
Scroll